Breadcrumb
1.1.4.5 Groundwater monitoring and assessment
Groundwater levels are monitored throughout the Gippsland Basin bioregion by the Victorian Department of Environment and Primary Industries via the State Observation Bore Network. Intensive monitoring of groundwater levels in the Gippsland Basin began in the late 1970s to early 1980s. Recent statistical analysis and trend mapping has been undertaken for monitoring bores across Victoria, including within the Gippsland Basin. This mapping forms a useful basis for understanding trends within aquifer systems resulting from the various existing groundwater pumping stresses.
There have been several qualitative to semi-quantitative groundwater assessments for regions within the Gippsland Basin bioregion (Brumley and Holdgate, 1983; Hatton et al., 2004; Walker and Mollica, 1990). Several numerical groundwater models have been developed for various regions of the Gippsland Basin and for different purposes over the last two decades (Bolger, 1987; Bolger, 1990; Evans, 1983; Golder Associates Pty Ltd, 1992; Minchin, 2010; Nahm, 2002; Nicol, 2010; Schaeffer, 2008).
The Latrobe Valley regional groundwater monitoring network extends from Moe to Stratford. The majority of the monitoring bores monitor groundwater within the middle aquifer system and the lower aquifer system (GHD, 2013). Groundwater levels are monitored every six months. GHD (2013) stated that impacts to shallow aquifers (including the Boisdale aquifer) are typically limited by low permeability coals and clays within the middle and lower aquifer systems. There are 43 bores monitoring 87 intervals in the Morwell Formation and 67 bores monitoring 91 intervals within the Traralgon Formation. There are two bores within the underlying basement rocks and eight bores monitoring 16 intervals within the shallow aquifer system. One bore monitors groundwater levels in the Gippsland Limestone, south of Sale (GHD, 2013).
The rate of decline in hydraulic head in the lower aquifer (Traralgon Formation) is typically greater and more uniform than in the rate of decline in the middle aquifer (Morwell Formation) (GHD, 2013).
These boreholes are typically monitored for salinity studies including parameters such as salinity and groundwater level (Nicol, 2010).
A network of monitoring bores is managed by the Victorian Department of Environment and Primary Industries across Victoria. Table 17 is a summary of the State Observation Bore Network monitoring bores in the Gippsland Basin. Bores are generally monitored on a monthly basis. The monitoring network has limited coverage within the Strzelecki Group. This may be a significant knowledge or data gap should any substantial unconventional gas development occur in the Strzelecki Group.
Table 17 State Observation Bore Network monitoring bores in the Gippsland Basin1
| Aquifer system | Number of State Observation Bore Network monitoring bores | Groundwater management unit(s) |
| --- | --- | --- |
| Bedrock | 4 | Orbost groundwater management unit, Moe groundwater management unit, unincorporated (East Gippsland), Rosedale groundwater management unit |
| Lower | 52 | Rosedale groundwater management unit, Yarram water supply protection area, Stratford groundwater management unit, Unincorporated (Central Gippsland, Moe, Tarwin), Moe groundwater management unit, Leongatha groundwater management unit, Tarwin groundwater management unit |
| Middle | 31 | Stratford groundwater management unit, Sale water supply protection area, Rosedale groundwater management unit, unincorporated (Central Gippsland), Yarram water supply protection area, Moe groundwater management unit, Denison water supply protection area |
| Upper | 93 | Orbost groundwater management unit, Wy Yung water supply protection area, Wa De Lock groundwater management unit, Denison water supply protection area, Giffard groundwater management unit, Sale water supply protection area, Rosedale groundwater management unit, Tarwin groundwater management unit, Yarram water supply protection area, unincorporated (Central Gippsland, Tarwin) |
Source: GHD (2014)
Last updated:
8 January 2018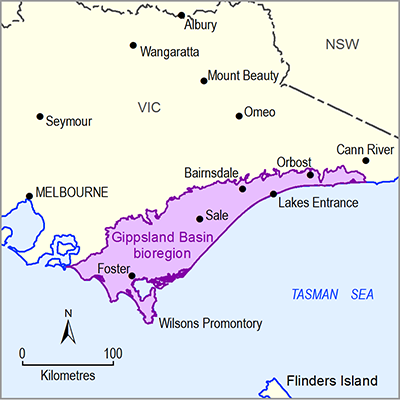 Product Finalisation date
ASSESSMENT