Breadcrumb
1.1 Context statement for the Gippsland Basin bioregion

The context statement brings together what was known about the geography, geology, hydrology and ecology of the Gippsland Basin bioregion as at April 2015.
Geography
The Gippsland Basin bioregion is in south-eastern Victoria and covers approximately 14,636 square kilometres. The bioregion includes the area between the foothills of the Great Dividing Range to the north, and the Bass Strait coast to the south, Warragul to the west, and Cann River to the east. The elevation of the bioregion ranges from sea level to 750 metres above sea-level at Mount Tassie within the Strzelecki Ranges.
The Gippsland Basin bioregion includes parts of two natural resource management regions. The East Gippsland Catchment Management Authority includes the Mitchell River and all other rivers further east of the bioregion. The West Gippsland Catchment Management Authority includes the Avon River and all rivers to the west of the bioregion.
Prior to European settlement the Kurnai Indigenous nation (now known as Gunnai) covered what is now the Gippsland region. 
Geology
The geological Gippsland Basin began to form around 150 million years ago with the rifting between Australia and Antarctica. The basin hosts some of the largest brown coal deposits in the world and is one of Australia's main hydrocarbon producing basins. Approximately 90% of Victorian power is generated from three power stations within the bioregion at Yallourn, Hazelwood and Loy Yang, with coal sourced from the nearby brown coal mines of the Latrobe Valley around Morwell and Traralgon. It is estimated that 430 billion tonnes of brown coal remain in situ in the Latrobe Valley, with 33 billion tonnes of economic resource.
Surface water and groundwater  
The Gippsland Basin bioregion includes several large rivers including the Latrobe River, Thomson River, Macalister River, Mitchell River and Tambo River. All rivers of the bioregion drain to the sea or via the wetlands of Gippsland Lakes and Corner Inlet. These are wetlands of international importance in recognition of their outstanding natural features and diversity of habitats.
There are four major water storage locations within the Gippsland Basin bioregion: Lake Glenmaggie, Cowwarr Weir, Blue Rock Dam and Lake Narracan. The Thomson Reservoir is situated north of the bioregion and is the largest water storage in Melbourne's water supply.
Ecology
The Gippsland Basin bioregion has been subjected to significant human pressure with 57% of the land area cleared of natural vegetation, predominantly for agricultural purposes. Eucalyptus open forest and woodlands dominate the 43% of uncleared land in the bioregion and support unique grasslands across the Gippsland Plains. Plantation forestry covers 24% of the bioregion.
Across the Gippsland Basin bioregion there are approximately 8350 wetlands. These areas are significant for migratory bird species of which 43 species are listed as threatened. Throughout the Gippsland Basin bioregion approximately 24 flora and 45 fauna species are also nationally listed as threatened.
Last updated:
8 January 2018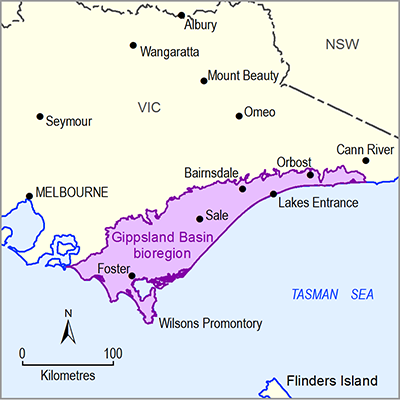 For a different document format, please
contact us
.
PRODUCT FINALISATION DATE