Breadcrumb
1.1.2.2 Human geography
1.1.2.2.1

Population
The Cooper subregion is sparsely populated. Very little census data is available for the area of the subregion as it contains no 'Significant Urban Centres' and the entirety of the subregion is reported within the 'Balance of State' for census data. The mesh block is the smallest geographic area on which the Australia Bureau of Statistics (ABS) reports data and only usual residential population and number of dwellings are reported at this scale. A total of 37 mesh blocks lie within or partly within the Cooper subregion boundary. In 2011 the total population of these mesh blocks was 1032, and 626 dwellings were recorded (Australian Bureau of Statistics, 2013).
Figure 8 Cooper subregion local government areas, towns and localities
Source: Australian Bureau of Statistics (2013)
The local government areas (LGAs) of the Cooper subregion are: Barcoo Shire, Quilpie Shire, and Bulloo Shire, with small amounts of Diamantina Shire and Longreach Regional in Queensland, and part of the Outback Areas Community Development Trust in SA (Figure 8). The Unincorporated Far West LGA in NSW covers such a small amount of area in the Cooper subregion it has not been included in the employment statistics below.
Industry of occupation is shown in Table 4 . As demonstrated by the township of Moomba with no permanent population but a large fly-in fly-out workforce, mining is the largest employer for the LGAs of the subregion at 30.1%, followed by manufacturing (15.2%), agriculture, forestry and fishing (9.5%) and construction (7.5%) (Australian Bureau of Statistics, 2013).
Table 4 Occupation categories in local government areas within the Cooper subregiona



Industry of occupation

Barcoo

Bulloo

Quilpie

Diamantina

Longreach Regional

Unincorporated SAb

Total employed

(%)

Mining

3

64

30

0

6

3,177

3280

(30.1%)

Manufacturing

3

0

15

3

53

1,576

1650

(15.2%)

Agriculture, forestry and fishing

98

82

144

56

343

310

1033

(9.5%)

Construction

12

29

73

10

147

546

817

(7.5%)

Accommodation and food services

13

19

34

25

146

340

577

(5.3%)

Public administration and safety

43

49

68

22

196

73

451

(4.1%)

Health care and social assistance

7

4

29

6

274

93

413

(3.8%)

Transport, postal and warehousing

14

15

48

12

100

206

395

(3.6%)

Retail trade

0

9

38

9

223

97

376

(3.5%)

Education and training

15

9

30

6

211

100

371

(3.4%)

Electricity, gas, water and waste services

0

0

8

0

13

286

307

(2.8%)

Administrative and support services

0

15

3

0

38

200

256

(2.4%)

Professional, scientific and technical services

6

0

3

0

55

172

236

(2.2%)

Other services

0

3

6

0

88

129

226

(2.1%)

Wholesale trade

0

3

14

0

58

130

205

(1.9%)

Financial and insurance services

0

0

3

0

46

0

49

(0.5%)

Rental, hiring and real estate services

0

0

3

0

22

21

46

(0.4%)

Arts and recreation services

0

3

0

0

32

9

44

(0.4%)

Information media and telecommunications

0

0

3

0

25

7

35

(0.3%)

Inadequately described/Not stated

0

6

9

4

27

66

112

(1.0%)

Total

214

310

561

153

2103

7538

10,879
Data: Australian Bureau of Statistics (2013)
aThe NSW part of the subregion is not included as it represents only a very small part of the subregion
bThe LGA of Unincorporated SA covers a large area and only a small amount (which includes Innamincka and Moomba) of it lies within the Cooper subregion. This, combined with a large transient workforce, is the reason the employment numbers are so large compared to the population.
Most of the land in the subregion is used for natural vegetation grazing but there are also significant areas of nature conservation (see lists below of protected areas and wetlands) (Figure 9). The subregion also contains an area of mining and intensive gas treatment, storage and distribution at Moomba, a gas exploration and processing town with no permanent population.
Areas within the Cooper subregion that are listed in the Collaborative Australian Protected Area Database (Wang, Dataset 10):
Innamincka Regional Reserve
Strzelecki Regional Reserve
Bulloo Downs Nature Refuge (in one of the subregion's outliers)
Welford National Park
Coongie Lakes National Park
Lower Dinner Creek Nature Refuge
Sturt National Park (in NSW, so only a very small amount lies in the Cooper subregion).
Wetlands within the Cooper subregion that are listed in DIWA (Department of the Environment, Dataset 6):
Strzelecki Creek Wetland System
Lake Cuddapan
Cooper Creek Overflow Swamps – Windorah
Cooper Creek Overflow Swamps – Nappa Merrie
Cooper Creek Overflow Swamps – Wilsons River Junction
Bulloo Lake (in one of the subregion's outliers)
Coongie Lakes Ramsar site
Lake Yamma Yamma
Lake Pinaroo (Fort Grey Basin) Ramsar site (only a very small area is within the Cooper subregion).
Several threatened ecological communities of native species dependent on the natural discharge of groundwater from the Great Artesian Basin from the Lake Frome Supergroup are just outside the Cooper subregion on the edge of Lake Blanche and further south near Lake Callabonna. These communities are listed as endangered under the Commonwealth's Environmental Protection and Biodiversity Conservation Act 1999.
Figure 9 Cooper subregion land use
Data: Australian Bureau of Agricultural and Resource Economics and Sciences (ABARES) (Dataset 1)
The Cooper subregion is within the Eyre region for Indigenous language groups (Horton, 1994) and has the following tribal or language groups:
Birria
Wangkumara
Yandruwandha
Yawarawarka
Karuwali.
There are native title claims covering large portions of the subregion and a number of Indigenous Land Use Agreements (ILUAs) in place. ILUAs are negotiated agreements between native title claimants and others about the use and management of lands and waters and were introduced by amendments in 1998 to the Commonwealth's Native Title Act 1993. An ILUA can be negotiated and registered separately to a native title determination.
At the time of writing there were 14 ILUAs in the Cooper subregion (Commonwealth of Australia, 2014):
Boonthamurra Opal ILUA
Innamincka Township ILUA
Yandruwandha/Yawarrawarrka Petroleum Conjunctive ILUA
Yandruwandha/Yawarrawarrka Innamincka Pastoral ILUA
Yandruwandha/Yawarrawarrka Tinga Tingana Pastoral ILUA
Yandruwandha/Yawarrawarrka White Catch Pastoral ILUA
Yandruwandha/Yawarrawarrka Bollards Lagoon Pastoral ILUA
Yandruwandha/Yawarrawarrka Gidgealpa Pastoral ILUA
Yandruwandha/Yawarrawarrka Merty Merty Pastoral ILUA
Coongie Lakes National Park ILUA
Strzelecki Regional Reserve ILUA
Innamincka Regional Reserve ILUA
Yandruwandha Yawarrawarrka Fishing ILUA
Yandruwandha/Yawarrawarrka Cordillo Downs Pastoral ILUA.
Last updated:
5 January 2018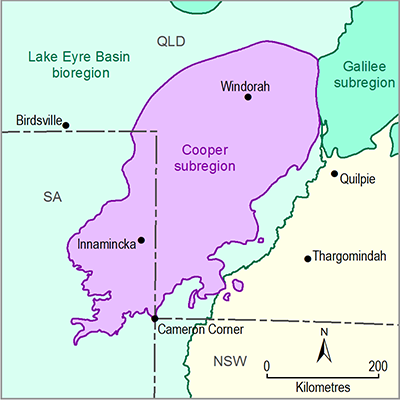 Product Finalisation date
ASSESSMENT