Breadcrumb
1.1.5 Surface water hydrology and water quality
Summary
The Sydney Basin bioregion includes all or parts of the Hawkesbury River, Shoalhaven River, Sydney Coast-Georges River, Clyde River-Jervis Bay, Wollongong Coast and Macquarie-Bogan river systems. The Hawkesbury river basin, which includes the Hawkesbury, Nepean, Wollondilly and Coxs rivers, dominates the bioregion.
The Hawkesbury and Shoalhaven river basins are important water supply catchments to the densely populated Greater Sydney metropolitan area. There are 18 major dams (storage capacity >1 GL) in the bioregion, ten of which contribute to Greater Sydney's water supply, while others meet the needs of Blue Mountains, Nowra and Southern Highlands communities. With a capacity of 2031 GL, Warragamba Dam (Lake Burragorang) is by far the largest water storage and supplies about 80% of Sydney's water.
Water quality is of paramount importance for drinking water supply and is closely monitored by WaterNSW. Protected and special areas have been designated around Nepean river basin water storages and Lake Burragorang, which restrict access to and use of these areas. Salinity is relatively low in the water supply catchments, but increases in the Hawkesbury River when it reaches the tidal zone between the Colo and Macdonald rivers.
Streamflow volumes for the Sydney Basin bioregion tend to be highest in February and August. Streamflow is typically lower and less variable between September and January than between February and August.
Last updated:
21 January 2019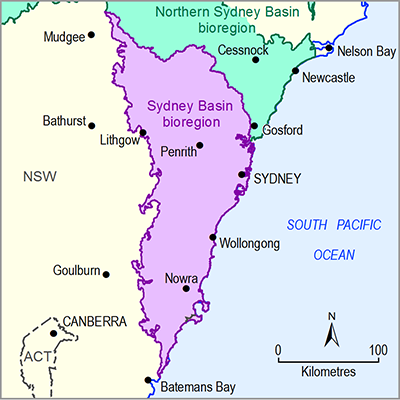 Product Finalisation date
ASSESSMENT