Breadcrumb
1.1.7.2 Terrestrial species and communities
Mitchell grass (Astrebla) tussock grasslands is the most widespread terrestrial NVIS v4.1 major vegetation subgroup in the Galilee subregion (32.9% by area, occurring as a largely treeless vegetation type on cracking clay soils and primarily in the northern half of the subregion), followed by Eucalyptus open woodlands with a grassy understorey (16.5%, primarily along the Great Dividing Range in the east of the subregion) and cleared, non-native vegetation, which becomes more abundant towards the south. Twelve other vegetation subgroups each cover 1 to 5% of the subregion (250,000 to 1,250,000 ha each) and 35 vegetation subgroups each cover less than 1% of the subregion (<250,000 ha each). Together with the three most widespread vegetation subgroups, the other less common subgroups form a complex mosaic that grades from north-east to south-west along the main rainfall gradient, but also responds locally to topographic and edaphic variation.
Very early in the Euro-Australian settlement of central and western Queensland, both Mitchell grass tussock (Astrebla) grasslands and Eucalyptus open woodlands with a grassy understorey were recognised as vegetation types with a combination of climatic and edaphic characteristics that would yield high livestock productivity under pastoral grazing systems (Orr and Holmes, 1984; Burrows et al., 1988). After more than a century of extensive cattle grazing, the bulk of these two vegetation types in the Galilee subregion are now classed as 'modified', according to the Vegetation Assets, States and Transitions (VAST) classification of Thackway and Lesslie (2001), meaning that the dominant structuring native species are present, but their levels of dominance have been significantly altered, and their natural regenerative capacity is limited or at risk under past and/or current land use or land management practice. According to Thackway and Lesslie (2001), any further modification would involve replacement of the native dominant species by adventive, exotic plant species, and thereby become a class of non-native vegetation.
Concentrated in the eastern parts of the Galilee subregion, 16.1% of the area has been historically and permanently cleared of its native vegetation to make way for non-native pasture, crops, urban development, etc. For the remaining native vegetation, tree clearance remains a source of disturbance and change in the subregion, and occurs primarily to provide or improve the quality of native or semi-natural pasture for cattle. The Queensland Department of Science, Information Technology, Innovation and the Arts (DSITIA, 2012) reported tree clearance during 2010 to 2011 by analysing satellite data in grid cells of 7'30" latitude x 7'30" longitude. Clearance was detected in more than half of the grid cells in the east, centre and south of the subregion, mainly in areas of open woodland characterised by brigalow (Acacia harpophylla), mulga (Acacia aneura) and other acacias and almost exclusively on freehold lands (DSITIA, 2012). The maximum rate of clearance was approximately 5% of a grid cell cleared in the single year, but where clearance occurred the rates were most frequently less than 2% of a grid cell. These rates are all substantially lower than in the past and are part of a trend of declining rates of tree clearance since 2005. In addition, at least two-thirds of the clearance is estimated to be of regrowth, rather than previously uncleared native vegetation (DSITIA, 2012).
As part of Queensland activities for the Australian Collaborative Rangeland Information System (ACRIS), Bastin et al. (2014) have recently completed an analysis of trend in condition of the non-woody component of the native terrestrial vegetation across Queensland's rangelands, including all non-forested parts of the Galilee subregion. Using multitemporal remote sensing data and analyses based on landscape heterogeneity and functionality, Bastin et al. report that most IBRA subregions within the Galilee subregion showed approximately stable to slightly improving range condition over the period 1988 to either 2003 or 2005 (depending of drought sequences), with the exception being the Alice Tableland IBRA subregion (lying between Hughenden, Pentland, Alpha and Barcaldine, in the north-east of the Galilee subregion) in which range condition declined during the reporting period.
Table 10 lists species of national significance listed under the Commonwealth's Environment Protection and Biodiversity Conservation Act 1999 (EPBC Act) that are known to occur in the Galilee subregion through specimens or human observations, or for which their occurrence is likely based upon analysis of the distribution of suitable habitat. Of those species, 23 have been identified as having low or no water dependence in the sense of the BA methodology (Barrett et al., 2013) and thus can be considered terrestrial: 15 plants, two reptiles, two birds and four mammals.
Five terrestrial ecological communities are EPBC listed, as are Coolibah – Black Box Woodlands that are associated with the periodically waterlogged floodplains and margins of various wetlands (Table 10). All occur only in the south-eastern quadrant of the subregion (Figure 55), on relatively fertile soils with relatively high rainfall, and also in areas of largely freehold land, and thus have been subject to selective historical clearance (see Fensham et al. (1998)), grazing, introduction of non-native plant species, and other forms of disturbance. The White Box-Yellow Box-Blakely's Red Gum Grassy Woodland and Derived Native Grassland in the subregion have the highest EPBC rating (critically endangered).
Table 11 lists taxa of regional significance under Queensland's Nature Conservation Act 1992. There are 102 taxa that occur in the Galilee subregion but are not also listed nationally.
Figure 55 Threatened ecological communities under the Commonwealth's Environment Protection and Biodiversity Conservation Act 1999
Source data: Database of Communities of National Environmental Significance. Department of Sustainability, Environment, Water, Population and Communities, Canberra, 2013
Table 10 Species and ecological communities in the Galilee subregion that are listed as threatened nationally under the Commonwealth's Environment Protection and Biodiversity Conservation Act 1999 (EPBC Act)



Biodiversity asset group

Scientific name

Common name

Status under the EPBC Act

Occur-rence in subregion

Endemi-city in subregion

Water depend-ence

Comments on water dependence

Plants

Acacia ammophila

Vulnerable

Likely

High

Low

No specific mention of water dependence

Acacia crombiei

Pink gidgee

Vulnerable

Likely

High

Low

No specific mention of water dependence

Acacia deuteroneura

Vulnerable

Likely

High

Low

No specific mention of water dependence

Acacia peuce

Waddy, waddi, waddy-wood, Birdsville wattle

Vulnerable

Likely

Low

Low

No specific mention of water dependence

Aristida annua

Vulnerable

Likely

Low

Low

No specific mention of water dependence

Austrobryonia argillicola

Endangered

Likely

High

Low

No specific mention of water dependence

Bertya calycina

Vulnerable

Likely

High

Low

No specific mention of water dependence

Cadellia pentastylis

Ooline

Vulnerable

Likely

Low

Low

No specific mention of water dependence

Dichanthium queenslandicum

King blue-grass

Endangered

Known

Low

Low

No specific mention of water dependence

Eriocaulon carsonii

Salt pipewort, button grass

Endangered

Likely

Low

High

Flowing mound springs

Eryngium fontanum

Blue devil

Endangered

Likely

High

High

Wetlands associated with artesian springs

Eucalyptus virens

Vulnerable

Likely

Moderate

Low

No specific mention of water dependence

Hakea maconochieana

Vulnerable

Likely

High

Low

No specific mention of water dependence

Lawrencia buchananensis

Vulnerable

Likely

High

High

Sandy surface on edge of lake

Livistona lanuginosa

Waxy cabbage palm

Vulnerable

Likely

Low

High

Streambanks and gullies

Marsdenia brevifolia

Vulnerable

Likely

Low

Low

No specific mention of water dependence

Melaleuca kunzeoides

Vulnerable

Likely

High

High

Not strictly associated with springs, however springs may provide important habitat

Rhaphidospora bonneyana

Vulnerable

Likely

High

Low

No specific mention of water dependence

Sclerolaena blakei

Vulnerable

Likely

High

Low

No specific mention of water dependence

Sclerolaena walkeri

Vulnerable

Likely

Moderate

Moderate

Saline river flats and watercourses

Xerothamnella parvifolia

Vulnerable

Likely

Moderate

Low

No specific mention of water dependence

Fish

Chlamydogobius micropterus

Elizabeth Springs goby

Endangered

Likely

High

High

Freshwater mound springs

Chlamydogobius squamigenus

Edgbaston goby

Vulnerable

Likely

High

High

Freshwater springs and pools

Scaturiginichthys vermeilipinnis

Redfin blue eye, redfin blue-eye

Endangered

Likely

High

High

Freshwater mound springs

Reptiles

Denisonia maculata

Ornamental snake

Vulnerable

Known

Low

High

Habitat that is favoured by its prey (frogs)

Egernia rugosa

Yakka skink

Vulnerable

Known

Low

Low

No specific mention of water dependence

Lerista vittata

Mount Cooper striped lerista

Vulnerable

Known

Low

Low

No specific mention of water dependence

Birds

Amytornis barbatus barbatus

Grey grasswren (bulloo)

Vulnerable

Known

Low

High

Swampy floodplains

Geophaps scripta scripta

Squatter pigeon (southern)

Vulnerable

Known

Low

High

Suitable water bodies to drink on a daily basis: permanent or seasonal rivers, creeks, lakes, ponds, waterholes and artificial dams

Neochmia ruficauda ruficauda

Star finch (eastern), star finch (southern)

Endangered

Likely

Low

Moderate

Grasslands and grassy woodlands that are located close to bodies of fresh water

Pedionomus torquatus

Plains-wanderer

Vulnerable

Likely

Moderate

Low

No specific mention of water dependence

Pezoporus occidentalis

Night parrot

Endangered, migratory

Likely

Moderate

Low

No specific mention of water dependence

Poephila cincta cincta

Black-throated finch (southern)

Endangered

Known

Low

Moderate

Riparian habitat, freshwater wetlands

Rostratula benghalensis (sensu lato)

Painted snipe

Endangered, migratory

Likely

Low

High

Shallow terrestrial freshwater (occasionally brackish) wetlands

Mammals

Dasyuroides byrnei

Kowari

Vulnerable

Likely

Low

Low

No specific mention of water dependence

Lasiorhinus krefftii

Northern hairy-nosed wombat, yaminon

Endangered

Likely

High

Low

No specific mention of water dependence

Onychogalea fraenata

Bridled nail-tail wallaby

Endangered

Known

Moderate

Low

No specific mention of water dependence

Sminthopsis douglasi

Julia Creek dunnart

Endangered

Known

High

Low

No specific mention of water dependence

Ecological communities

Brigalow (Acacia harpophylla dominant and co-dominant)

Endangered

Known

Moderate

Low

No specific mention of water dependence

Coolibah - Black Box Woodlands of the Darling Riverine Plains and the Brigalow Belt South Bioregions

Endangered

Known

Low

High

Associated with periodically waterlogged floodplains, swamp margins, ephemeral wetlands, and stream levees

Natural Grasslands of the Queensland Central Highlands and the northern Fitzroy Basin

Endangered

Known

Moderate

Low

No specific mention of water dependence

Semi-evergreen vine thickets of the Brigalow Belt (North and South) and Nandewar Bioregions

Endangered

Known

Moderate

Low

No specific mention of water dependence

The community of native species dependent on natural discharge of groundwater from the Great Artesian Basin

Endangered

Known

High

High

Entirely dependent on discharge springs

Weeping Myall Woodlands (Acacia pendula dominant or co-dominant)

Endangered

Known

Low

Low

Not associated with active drainage channels and are rarely if ever flooded

White Box-Yellow Box-Blakely's Red Gum Grassy Woodland and Derived Native Grassland

Critically Endangered

Historical records only

Very low

Low

No specific mention of water dependence
Source data: Department of Environment, Canberra, 2013
Table 11 Species in the Galilee subregion that are listed as threatened under Queensland's Nature Conservation Act 1992 and Nature Conservation (Wildlife) Regulation 2006 (updated to 27 September 2013), and under the Commonwealth's Environment Protection and Biodiversity Conservation Act 1999 (EPBC Act)



Biodiversity asset type

Family

Scientific name

Common name

Status under Queensland's legislation

Status under the EPBC Act

Plants

Acanthaceae

Rhaphidospora bonneyana

Vulnerable

Vulnerable

Acanthaceae

Xerothamnella parvifolia

Vulnerable

Vulnerable

Amaranthaceae

Ptilotus brachyanthus

Endangered

Amaranthaceae

Ptilotus maconochiei

Near threatened

Amaranthaceae

Ptilotus pseudohelipteroides

Near threatened

Apiaceae

Actinotus paddisonii

Clustered flannel flower

Near threatened

Apiaceae

Eryngium fontanum

Endangered

Endangered

Apocynaceae

Cerbera dumicola

Near threatened

Araliaceae

Hydrocotyle dipleura

Vulnerable

Asteraceae

Brachyscome tesquorum

Near threatened

Asteraceae

Calocephalus sp. (Eulo M.E.Ballingall MEB2590)

Near threatened

Asteraceae

Calotis suffruticosa

Near threatened

Asteraceae

Peripleura scabra

Near threatened

Asteraceae

Picris barbarorum

Vulnerable

Asteraceae

Rhaponticum australe

Vulnerable

Vulnerable

Asteraceae

Rhodanthe rufescens

Near threatened

Asteraceae

Vittadinia decora

Near threatened

Campanulaceae

Wahlenbergia islensis

Near threatened

Chenopodiaceae

Atriplex lobativalvis

Near threatened

Chenopodiaceae

Atriplex morrisii

Vulnerable

Chenopodiaceae

Sclerolaena blackiana

Black's copperburr

Near threatened

Chenopodiaceae

Sclerolaena blakei

Vulnerable

Vulnerable

Chenopodiaceae

Sclerolaena walkeri

Vulnerable

Vulnerable

Cucurbitaceae

Austrobryonia argillicola

Endangered

Endangered

Cycadaceae

Cycas couttsiana

Near threatened

Cyperaceae

Cyperus clarus

Vulnerable

Eriocaulaceae

Eriocaulon aloefolium

Endangered

Eriocaulaceae

Eriocaulon carsonii

Endangered

Endangered

Eriocaulaceae

Eriocaulon carsonii subsp. carsonii

Endangered

Eriocaulaceae

Eriocaulon carsonii subsp. euloense

Endangered

Eriocaulaceae

Eriocaulon carsonii subsp. orientale

Endangered

Eriocaulaceae

Eriocaulon giganticum

Endangered

Euphorbiaceae

Bertya calycina

Vulnerable

Vulnerable

Euphorbiaceae

Bertya pedicellata

Near threatened

Euphorbiaceae

Euphorbia sarcostemmoides

Climbing caustic

Vulnerable

Fabaceae

Desmodium macrocarpum

Near threatened

Fabaceae

Indigofera oxyrachis

Vulnerable

Fabaceae

Sesbania erubescens

Near threatened

Fabaceae

Zornia pallida

Near threatened

Frankeniaceae

Frankenia scabra

Near threatened

Goodeniaceae

Goodenia angustifolia

Near threatened

Haloragaceae

Haloragis exalata subsp. velutina

Vulnerable

Vulnerable

Haloragaceae

Myriophyllum artesium

Endangered

Lauraceae

Endiandra dichrophylla

Coach walnut

Near threatened

Laxmanniaceae

Lomandra teres

Vulnerable

Mimosaceae

Acacia ammophila

Vulnerable

Vulnerable

Mimosaceae

Acacia crombiei

Pink gidgee

Vulnerable

Vulnerable

Mimosaceae

Acacia deuteroneura

Vulnerable

Vulnerable

Mimosaceae

Acacia islana

Vulnerable

Mimosaceae

Acacia peuce

Waddy

Vulnerable

Vulnerable

Mimosaceae

Acacia polyadenia

Near threatened

Mimosaceae

Acacia spania

Near threatened

Myoporaceae

Eremophila tetraptera

Vulnerable

Myrtaceae

Corymbia clandestina

Vulnerable

Vulnerable

Myrtaceae

Kardomia squarrulosa

Vulnerable

Myrtaceae

Leptospermum pallidum

Near threatened

Myrtaceae

Melaleuca kunzeoides

Vulnerable

Vulnerable

Myrtaceae

Micromyrtus rotundifolia

Vulnerable

Myrtaceae

Syzygium buettnerianum

New Guinea satinash

Near threatened

Myrtaceae

Thryptomene hexandra

Near threatened

Poaceae

Aristida burraensis

Near threatened

Poaceae

Arthraxon hispidus

Vulnerable

Vulnerable

Poaceae

Dichanthium queenslandicum

Vulnerable

Endangered

Poaceae

Sporobolus pamelae

Endangered

Poaceae

Sporobolus partimpatens

Near threatened

Polygalaceae

Polygala pycnantha

Near threatened

Proteaceae

Grevillea kennedyana

Vulnerable

Vulnerable

Proteaceae

Hakea maconochieana

Vulnerable

Vulnerable

Rhamnaceae

Discaria pubescens

Near threatened

Rubiaceae

Oldenlandia spathulata

Endangered

Rutaceae

Boronia eriantha

Near threatened

Rutaceae

Drummondita calida

Vulnerable

Scrophulariaceae

Elacholoma hornii

Near threatened

Scrophulariaceae

Rhamphicarpa australiensis

Near threatened

Surianaceae

Cadellia pentastylis

Ooline

Vulnerable

Vulnerable

Fish

Gobiidae

Chlamydogobius micropterus

Elizabeth Springs goby

Endangered

Endangered

Gobiidae

Chlamydogobius squamigenus

Edgbaston goby

Endangered

Vulnerable

Pseudomugilidae

Scaturiginichthys vermeilipinnis

Redfin blue eye

Endangered

Endangered

Amphibians

Hylidae

Cyclorana verrucosa

Rough-collared frog

Near threatened

Reptiles

Boidae

Aspidites ramsayi

Woma

Near threatened

Chelidae

Emydura subglobosa worrelli

Diamond head turtle

Near threatened

Diplodactylidae

Strophurus taenicauda

Golden-tailed gecko

Near threatened

Elapidae

Acanthophis antarcticus

Common death adder

Near threatened

Elapidae

Antaioserpens warro

Robust burrowing snake

Near threatened

Elapidae

Furina barnardi

Yellow-naped snake

Near threatened

Elapidae

Oxyuranus microlepidotus

Western taipan

Near threatened

Elapidae

Pseudechis colletti

Collett's snake

Near threatened

Pygopodidae

Paradelma orientalis

Brigalow scaly-foot

Vulnerable

Scincidae

Ctenotus ariadnae

Near threatened

Scincidae

Ctenotus capricorni

Near threatened

Scincidae

Ctenotus schevilli

Near threatened

Scincidae

Ctenotus septenarius

Near threatened

Scincidae

Ctenotus serotinus

Near threatened

Scincidae

Egernia rugosa

Yakka skink

Vulnerable

Vulnerable

Scincidae

Lerista cinerea

Near threatened

Scincidae

Lerista wilkinsi

Near threatened

Birds

Acanthizidae

Pyrrholaemus brunneus

Redthroat

Near threatened

Accipitridae

Accipiter novaehollandiae

Grey goshawk

Near threatened

Accipitridae

Erythrotriorchis radiatus

Red goshawk

Endangered

Vulnerable

Accipitridae

Lophoictinia isura

Square-tailed kite

Near threatened

Anatidae

Stictonetta naevosa

Freckled duck

Near threatened

Anatidae

Tadorna radjah

Radjah shelduck

Near threatened

Cacatuidae

Calyptorhynchus lathami

Glossy black-cockatoo

Vulnerable

Cacatuidae

Lophochroa leadbeateri

Major Mitchell's cockatoo

Vulnerable

Ciconiidae

Ephippiorhynchus asiaticus

Black-necked stork

Near threatened

Climacteridae

Climacteris erythrops

Red-browed treecreeper

Near threatened

Columbidae

Geophaps scripta scripta

Squatter pigeon (southern subspecies)

Vulnerable

Vulnerable

Estrildidae

Erythrura gouldiae

Gouldian finch

Endangered

Endangered

Estrildidae

Heteromunia pectoralis

Pictorella mannikin

Near threatened

Estrildidae

Poephila cincta cincta

Black-throated finch (white-rumped subspecies)

Endangered

Endangered

Falconidae

Falco hypoleucos

Grey falcon

Near threatened

Maluridae

Amytornis barbatus

Grey grasswren

Near threatened

Meliphagidae

Anthochaera phrygia

Regent honeyeater

Endangered

Endangered

Meliphagidae

Epthianura crocea

Yellow chat

Vulnerable

Meliphagidae

Grantiella picta

Painted honeyeater

Vulnerable

Meliphagidae

Melithreptus gularis

Black-chinned honeyeater

Near threatened

Meliphagidae

Melithreptus gularis laetior

Golden-backed honeyeater

Near threatened

Pedionomidae

Pedionomus torquatus

Plains-wanderer

Vulnerable

Vulnerable

Psittacidae

Neophema pulchella

Turquoise parrot

Near threatened

Psittacidae

Pezoporus occidentalis

Night parrot

Endangered

Endangered

Psittacidae

Psephotus pulcherrimus

Paradise parrot

Presumed extinct

Extinct

Rostratulidae

Rostratula australis

Australian painted snipe

Vulnerable

Endangered

Scolopacidae

Numenius madagascariensis

Eastern curlew

Near threatened

Strigidae

Ninox strenua

Powerful owl

Vulnerable

Turnicidae

Turnix melanogaster

Black-breasted button-quail

Vulnerable

Vulnerable

Mammals

Dasyuridae

Dasycercus blythi

Brush-tailed mulgara

Vulnerable

Vulnerable

Dasyuridae

Dasycercus cristicauda

Crest-tailed mulgara

Vulnerable

Endangered

Dasyuridae

Dasyuroides byrnei

Kowari

Vulnerable

Vulnerable

Dasyuridae

Sminthopsis douglasi

Julia Creek dunnart

Endangered

Endangered

Macropodidae

Onychogalea fraenata

Bridled nailtail wallaby

Endangered

Endangered

Macropodidae

Petrogale purpureicollis

Purple-necked rock-wallaby

Vulnerable

Megadermatidae

Macroderma gigas

Ghost bat

Vulnerable

Muridae

Notomys fuscus

Dusky hopping-mouse

Endangered

Vulnerable

Muridae

Pseudomys australis

Plains rat

Endangered

Vulnerable

Peramelidae

Macrotis lagotis

Greater bilby

Endangered

Vulnerable

Potoroidae

Caloprymnus campestris

Desert rat-kangaroo

Presumed extinct

Extinct

Vespertilionidae

Chalinolobus picatus

Little pied bat

Near threatened

Vespertilionidae

Nyctophilus corbeni

Eastern long-eared bat

Vulnerable

Vulnerable

Vombatidae

Lasiorhinus krefftii

Northern hairy-nosed wombat

Endangered

Endangered
Source data: Queensland Government (2013)
Last updated:
8 January 2019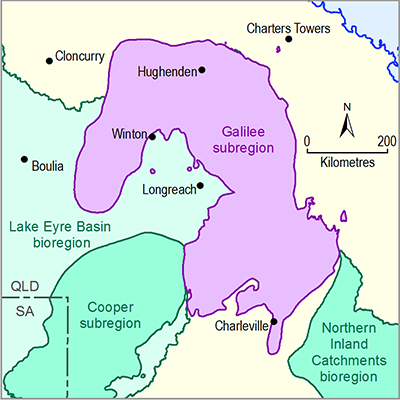 Product Finalisation date
ASSESSMENT