The predictions of hydrological change associated with additional coal resource development are shown in the boxplots in Figure 19 to Figure 27. In these figures, the model nodes are grouped for different river sections and tributaries. Within these groupings, small tributaries have a darker background shading. Nodes are ordered from downstream to upstream. The tributary grouping labelled 'u/s Greta' (u/s = upstream of) includes tributaries that join the Hunter River between nodes 1 and 20. The tributary grouping labelled 'u/s Glennies Creek' includes tributaries that join the Hunter River between nodes 25 and 51. The tributary grouping labelled 'u/s Denman' includes tributaries that join the Hunter River above node 51. Refer to Figure 5 in Section 2.6.1.3 for a schematic depiction of the model nodes and the network topology. The implications of these hydrological changes on landscape classes and assets are not discussed here, but are the focus of the impact and risk analysis reported in companion product 3-4 for the Hunter subregion (as listed in Table 2).
Figure 19 shows the changes to the annual flow (AF) at the 65 model nodes. The biggest percentage reductions occur in some of the small tributaries of the Hunter River, and range up to a median pmax of 81% at node 8 (Doctors Creek). Nine model nodes have reductions in median pmax that exceed 20%. Seven of these have catchment areas of less than 25 km2 and all have areas of less than 80 km2. There are tightly constrained distributions of pmax values around these median values at all the heavily affected nodes except for node 11, where the 5th to 95th percentile range in pmax is –51% to –30%. Apart from reductions in median pmax of about 8% at nodes 46 (Wollar Creek) and 47 (Wilpinjong Creek) there is little effect on AF in the nodes in the Goulburn and Wyong river basins or in those along Wollombi Brook, where the median pmax reductions are less than 2% of baseline flow. The largest reductions in median amax are located in the lower Hunter River and increase with distance downstream. The biggest effects are at nodes 1 and 6 and result in losses of around 29 GL/year, which represent about 3% of the baseline flow. A large proportion of this median reduction (13 GL/year) originates in the Loders Creek tributary (node 7), with the remainder propagating from upstream (node 10).
For the heavily affected nodes, the median year at which maximum hydrological changes occurs is either 2022 or 2037 for the tributaries of the lower Hunter River (nodes 7, 8, 9 and 11), but 2028 for tributaries upstream of Glennies Creek. There is relatively little uncertainty in these dates. The maximum hydrological changes in the Hunter River itself tend to occur in 2037.
Last updated:
18 January 2019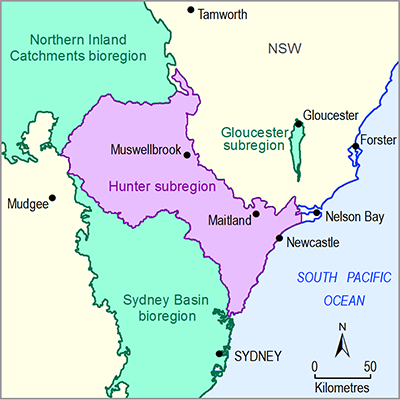 Product Finalisation date
ASSESSMENT