Australian Stratigraphic Unit Database (2013) Viewed 30 November 2013, http://dbforms.ga.gov.au/www/geodx.strat_units.int.
Bunny M and Milligan I (1997) Australian coalbed methane petroleum exploration licences 1, 10, 12 and 286 Sydney-Gunnedah basins, NSW, Report A398. Earth Resources Australia, Chatswood, New South Wales.
Cook AG and Draper JJ (2013) Surat Basin. In: Jell PA (ed) Geology of Queensland. Geological Survey of Queensland, Brisbane, 533–539.
Decker D (1999) Discovery and geology of Narrabri gas fields. Oil and gas in south-east Australia: new ideas, new data, new interpretations, new production and markets. University of Sydney, Sydney.
Geoscience Australia (2014) Australian Geological Provinces. Viewed 1 June 2014, http://www.ga.gov.au/products-services/data-applications/australian-geological-provinces.html.
Geoscience Australia and BREE (2012) Australian gas resource assessment 2012, Canberra. Geoscience Australia, GeoCat # 74032.
Geoscience Australia and BREE (2014) Australian Energy Resource Assessment. 2nd Ed. Geoscience Australia, Canberra.
Gurba LW and Weber CR (2001) Effects of igneous intrusions on coalbed methane potential, Gunnedah Basin, Australia. International Journal of Coal Geology 46, 113–131.
Gurba LW, Golab A and Douglass J (2009) CO2 geological storage opportunities in the Gunnedah Basin, and the southern Bowen Basin, NSW status report, report RPT09-1456. CO2CRC, Australia.
McKellar JL (1998) Late early to late Jurassic palynology, biostratigraphy and palaeogeography of the Roma Shelf area, northwestern Surat Basin, Queensland, Australia. PhD Thesis, University of Queensland, Department of Geology and Mineralogy, Brisbane.
Milligan I and Bunny M (1996) Australian coalbed methane petroleum exploration licences 1, 10, and 286 Gunnedah Basin, NSW, Report A395. Earth Resources Australia, Chatswood, New South Wales.
NSW Department of Trade and Investment (2011) NSW Coal Industry Profile, 2010. NSW Department of Trade and Investment, Maitland, 302 pp.
Scott AR and Hamilton DS (2008) Targeting Sydney-Gunnedah Basin Coal Seam Methane Exploration Fairways and Sweetspots Based on Coalbed Methane Exploration Model: Phase II Lower Coal Measures. A report prepared for the NSW Department of Primary Industries, Mineral Resources.
Stewart JR and Alder JD (1995) New South Wales petroleum potential – Sydney Basin. Department of Mineral Resources, Sydney.
Tadros NZ (1993) The Gunnedah Basin, New South Wales, Memoir 12. Geological Survey of New South Wales, Sydney.
Tadros NZ (1995) Gunnedah Basin. In: CR Ward, HJ Harrington, CW Mallett and JW Beeston (eds). Geology of Australian Coal Basins, Special Publication No. 1. Geological Society of Australia Incorporated Coal Group, Australia, 247–298.
Totterdell JM, Moloney J, Korsch RJ and Krassay AA (2009) Sequence stratigraphy of the Bowen-Gunnedah and Surat Basins in NSW, Aust Jour Earth Science, 56(3), 433–459.
Ward CR and Kelly BFJ (2013) Background Paper on New South Wales Geology, with a focus on basins containing coal seam gas resources. Prepared for the Office of the NSW Chief Scientist and Engineer. School of Biological, Earth and Environmental Sciences, University of New South Wales. Unisearch Expert Opinion Services.
Welsh W, Hodgkinson J, Strand J, Northey J, Aryal S, O'Grady A, Slatter E, Herron N, Pinetown K, Carey H, Yates G, Raisbeck‑Brown N and Lewis S (2014) Context statement for the Namoi subregion. Product 1.1 from the Northern Inland Catchments Bioregional Assessment. Department of the Environment, Bureau of Meteorology, CSIRO and Geoscience Australia, Australia. Viewed 17 July 2014, http://www.bioregionalassessments.gov.au/products.shtml#namoi.
Last updated:
5 January 2018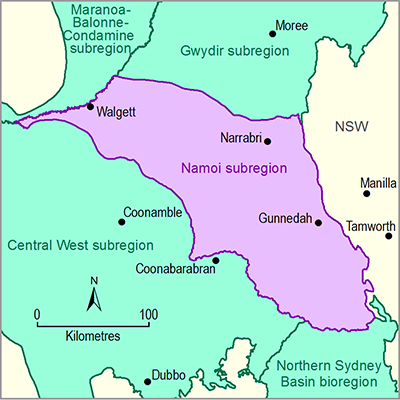 Product Finalisation date
ASSESSMENT