Breadcrumb
1.2.2 Current activity and tenements
At present, four open-cut coal mines are in operation in the Maranoa-Balonne-Condamine subregion: Commodore, New Acland, Kogan Creek and Cameby Downs. All operating mines are in the east of the subregion. Commodore Mine is an open-cut mine majority owned by InterGen Australia and co-owned by Marubeni Corporation and four other organisations. It is the sole supplier of thermal coal to InterGen's adjacent 850 megawatt Millmerran Power Station, approximately 200 km west of Brisbane. Coal at Commodore Mine is extracted from the Walloon Coal Measures. New Acland Coal Mine is 177 km west of Brisbane, is currently operated by the New Hope Group as 'Stage 2' of its three stage mine development plan and produces thermal coal for both domestic and international customers. Kogan Creek Mine near Chinchilla, is owned by Aberdare Collieries Pty Ltd (a subsidiary of CS Energy Ltd, which is owned by the Queensland Government). The mine provides thermal coal to CS Energy's adjacent Kogan Creek Power Station. Cameby Downs is owned by Yancoal Australia Ltd. It is an open-cut mining operation about 30 km north-west of Chinchilla producing low ash, export quality thermal coal. Stage 1 of the project currently produces about 1.4 Mt/year of thermal coal. Additionally, there are two underground coal gasification projects (UCG, which is a process that converts coal into gas and liquids) in the subregion: Bloodwood Creek and Linc Energy Limited's Hopeland No 1. They are discussed briefly here as the Queensland Government considers UCG to be a coal mining activity, although UCG is not being considered in this bioregional assessment.
Established coal seam gas (CSG) operations in the Maranoa-Balonne-Condamine subregion include Arrow Energy Pty Ltd's Daandine, Kogan North, and Tipton West gas fields; Origin Energy Limited's Talinga gas field; and QGC Pty Limited's Argyle-Kenya, Lauren, Bellevue, Berwyndale, and Berwyndale South gas fields. Production typically occurs from the Walloon Coal Measures of the Surat Basin.
CSG field development has escalated considerably in the recent past as a result of the construction of three large scale liquefied natural gas (LNG) projects on Curtis Island near Gladstone. A large portion of the gas to be supplied to the LNG projects will be extracted from the Walloon Coal Measures located in the Maranoa-Balonne-Condamine subregion. QGC Pty Limited, Origin Energy Limited, and Santos Ltd are the respective operators of these LNG projects and the associated gas field developments. Part of the gas produced during the ramp-up phase is sold to the domestic market and gas fired power stations before commercial production of the LNG facilities commences.
Last updated:
5 January 2018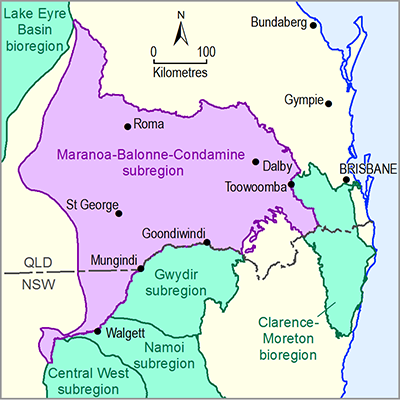 Product Finalisation date
ASSESSMENT