Box GEP and Cox DR (1964) An analysis of transformations. Journal of the Royal Statistical Society Series B 26, 211–252.
Viney N (2016) Surface water modelling. Submethodology M06 from the Bioregional Assessment Technical Programme. Department of the Environment and Energy, Bureau of Meteorology, CSIRO and Geoscience Australia, Australia. http://data.bioregionalassessments.gov.au/submethodology/M06.
Viney NR, Vaze J, Wang B, Zhang Y, Yang A, Vleeshouwer J, Ramchurn A and Frost A (2014) Intercomparison of methods for regionalising rainfall-runoff model predictions over large domains. Proceedings of Hydrology and Water Resources Symposium, Perth, Australia, 970–977.
Zhang YQ, Viney NR, Chiew FHS, Van Dijk AIJM and Liu Y (2011) Improving hydrological and vegetation modelling using regional model calibration schemes together with remote sensing data. In: MODSIM 2011 International Congress on Modelling and Simulation, December 2011, Perth, Australia: Modelling and Simulation Society of Australian and New Zealand, 3448–3454.
Last updated:
6 December 2018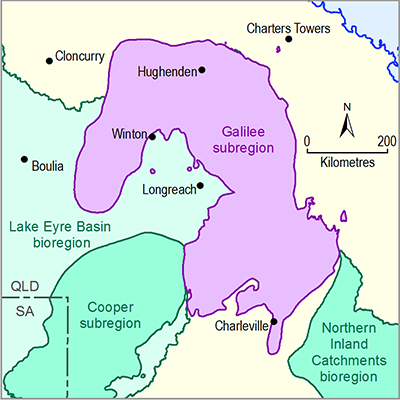 Product Finalisation date
ASSESSMENT