There are 57 sociocultural assets in the asset list in the Central West subregion and 45 of these are water dependent. Two of these – Warrumbungle National Park and Dundullimal – are from the National Heritage List (Australian Government Department of the Environment, Dataset 2). The remaining 43 assets are from the Register of the National Estate (RNE; Australian Government Department of the Environment, Dataset 3). Eighteen Indigenous sociocultural assets sourced from existing Commonwealth heritage databases were included for assessment. These Indigenous sites include 9 carved or scarred tree sites. There are 16 heritage sites, which include the Chalk Mountain Area, places in Dubbo, Coonable, Coonabarabran and Richard Cunningham's grave in Burdenda. The 11 recreation areas include areas in the Macquarie Marshes, nature reserves and state forests as well as 2 geological/paleontological sites (Narangarie Quarry and Cuddie Springs). Table 12 shows the breakdown of sociocultural assets.
The largest asset in the area, Warrambungle National Park, is listed twice, with the older and spatially slightly different 1980 boundary, listed in the RNE. The listings for Macquarie Marshes, Goonoo Forest near Dubbo and the Warrumbungle National Park are for large areas (approximately 161 km2, 63 km2 and 24 km2, respectively) in the subregion. Other larger listed recreation areas include Binnaway, Coolbaggie and Dapper nature reserves (Figure 10).
The asset list and other details are available from the water-dependent asset register and asset list (O'Grady and Bruce, 2015) and the asset database (Bioregional Assessment Programme, Dataset 1).
Table 12 Number of sociocultural assets according to subgroup and asset class in the Central West subregion



Subgroup

Asset class

Not in water-dependent asset register

In water-dependent asset register

Total number of assets

Cultural

Heritage site

11

16

27

Indigenous site

0

18

18

Social

Recreation area

1

11

12

Total

12

45

57
Data: Bioregional Assessment Programme (Dataset 1)
Figure 10 Location of sociocultural assets in the Central West subregion
Data: Bioregional Assessment Programme (Dataset 1), Australian Government Department of the Environment (Dataset 2 and Dataset 3)
Last updated:
5 January 2018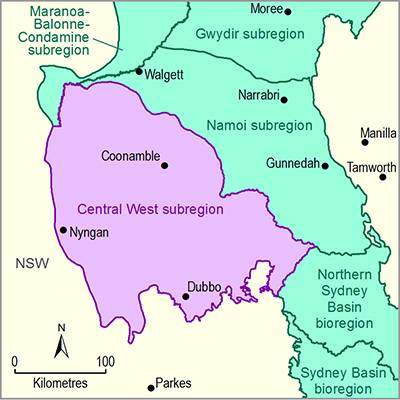 Product Finalisation date
ASSESSMENT