Summary
Surface water quality in the Galilee subregion is monitored under the Surface Water Ambient Network (SWAN) monitoring programme by the Queensland Government and the Lake Eyre Basin Rivers Assessment (LEBRA) programme under the Lake Eyre Basin (LEB) intergovernmental agreement between Commonwealth, Queensland, South Australian and Northern Territory governments. This product summarises surface water quality for the Cooper, Flinders and Burdekin river basins where there is a potential of future resource developments. The water quality indicators are electrical conductivity (EC) and turbidity, and the data are based on SWAN's 2004 to 2008 and LEBRA's 2011 to 2012 data. The EC values in the Cooper creek basin that is part of the Galilee subregion are generally close to the water quality objective trigger value but the turbidity is generally high. Compared with water quality objective trigger values, EC values in the Flinders river basin are generally high. EC values in the Burdekin river basin are also high compared to water quality objective trigger values but less than those in the Flinders river basin. Turbidity in the Burdekin river basin is very high when compared against the water quality objective. However, as the data period and spatial distribution are limited it is difficult to draw conclusions based on the available water quality data. It is also important to note that trigger values could be different locally from a regional value.
Groundwater quality in the Galilee and Eromanga basin aquifers has been assessed with reference to national guidelines for water quality provided by the National Health and Medical Research Council (2011), and the Australian and New Zealand Environmental and Conservation Council (2000).
Groundwater quality data are largely limited to salinity and major ions analyses. For many of the samples it is difficult to determine which hydrostratigraphic unit a sample was derived due to key missing data such as sample depth.
Last updated:
5 January 2018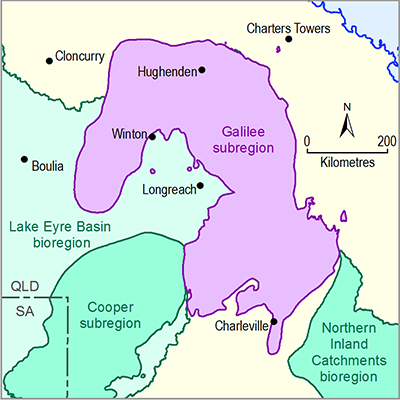 Product Finalisation date
ASSESSMENT