Based on the geological setting and discrete structural-sedimentary formation (see Figure 22 and 23, Chapter 1.1.3), the Gloucester Basin which underlies the Gloucester subregion, is characterised as a closed hydrogeological system. Multiple groundwater studies (Australasian Groundwater and Environmental, 2013; Heritage Computing, 2009; 2012; Parsons Brinckerhoff, 2012a; 2012b; 2012c; 2013b) describe four main hydrogeological units within the basin:
the alluvial aquifers along major creek lines
relatively shallow weathered/fractured rock aquifers
interburden units of very low permeability which form a thick succession of low permeability coal measures
the impermeable Alum Mountain Volcanics Formation that underlies these three hydrogeological units.
Findings of the studies (Australasian Groundwater and Environmental, 2013; Heritage Computing, 2009; 2012; Parsons Brinckerhoff, 2012a; 2012b; 2012c; 2013b) are summarised below:
Figure 25 Hydrogeological information
A large number of faults are known or inferred to underlie the Gloucester Basin (Figure 25) (Roberts et al., 1991). However, the effect of faults on hydraulic properties of formations is not well known. Some evidence of the role of fault systems on hydraulic properties of the formations in the basin are summarised by Parsons Brinckerhoff (2012c; 2013b). Key findings are listed below:
AGL plans to conduct a further hydrogeological investigation into faulting in association with the proposed Waukivory flow testing program. The thrust fault in the Waukivory area is typical of many fault systems across the eastern portion of the Gloucester Basin (see Figure 3.7 in Parsons Brinckerhoff, 2013c, p. 16).
According to the New South Wales Office of Water (NSW Office of Water), data for registered bores in the Gloucester Basin are categorised by use as: commercial or industrial; irrigation; mining; stock, domestic or farming; test or monitoring; and unknown.
Parsons Brinckerhoff (2013c) and Australasian Groundwater and Environmental (2013) provided a review of the NSW Office of Water groundwater database for the Gloucester Basin. Parsons Brinckerhoff (2013c) have identified registered bores: 24 used by stock and domestic supply; four used for irrigation; five used for commercial and industrial purposes; four for mining use; 121 for test and monitoring associated with mining in the area; and 30 are registered with unknown use.
Stock and domestic useThe 24 bores registered for stock and domestic use are between 4 m and 66 m deep and are likely to intersect the alluvium and shallow rock within the Gloucester Basin. Parsons Brinckerhoff (2013c) assumes that annual stock and domestic bore use is approximately 1 ML/bore. AGE (2013) has reported that a single groundwater facility exists in the Avon River management area with an annual entitlement of 20 ML/year from the alluvium.
Coal m

ining

There are 51 bores associated with Stratford Mine, Duralie Mine and the Rocky Hill Coal Project. Groundwater pit inflows to the Duralie Mine open cuts are expected to vary between approximately 0.2 and 1ML/day during mining operations (Heritage Computing, 2009, pp. B-5). Total pit inflows will range between approximately 0.7 ML/day and 1.3 ML/day during the Stratford Mine operation (Heritage Computing, 2012, p. A-47 and A-56). Pit inflows are predicted to be reduced by a maximum of 0.5 ML/day if CSG dewatering in the Stage 1 Gas Field Development Area is coincident with mining at the Stratford Mine (Heritage Computing, 2012, p. A-49 and A-54).
Coal seam gas
Over the last 10 years, AGL and Lucas Energy were the only organisations which conducted CSG exploration and relevant hydrogeological investigations in the Basin and the findings of those activities were summarised by Parsons Brinckerhoff (2013c). According to Parsons Brinckerhoff (2013c):
Coal seam gas dewatering is deemed to be 'industrial and irrigation use' as water that is pumped as part of exploration (appraisal) and production programs is mostly reused (for drilling, fracture stimulation, industrial recycling and irrigation purposes).
The long-term reuse of water produced as a result of CSG dewatering will mostly be for irrigation purposes. This would be conditional on water quality, which is likely to be brackish.
The Gloucester Gas Project (GGP) will involve the dewatering of deep groundwater and the extraction of gas from multiple coal seams within the Gloucester Coal Measures. Target coal seam depths will vary from site to site but are expected to range between 200 and 1000 mbgl.
The GGP includes the construction, operation and decommissioning of not more than 110 coal seam gas wells and associated infrastructure, including gas and water gathering lines, within the Stage 1 Gas Field Development Area.
The volumetric rate of groundwater extraction will not exceed 2 ML/day (averaged over a 12 month period), as specified in the Commonwealth's Environment Protection and Biodiversity Conservation Act 1999 (the EPBC Act; Part 3A Approval – condition 3.11; and EPBC Approval – condition 22). The effect of such abstraction on the basin water balance has not yet been fully assessed.
Planning and management of groundwater systems in the region is undertaken by the NSW Office of Water, through water sharing plans (WSP) and reviewed every 10 years from date of commencement. Currently there is no WSP for the sedimentary (porous) rocks of the Gloucester Basin. As per NSW Office of Water, Water Sharing Plan website development of Northern Fractured and Porous Rock Groundwater Sources WSP will be commenced in 2014 (DPI, 2014). The WSP for the Karuah River Water Source (DIPNR, 2004) indicated no plans for groundwater extraction. The unregulated Avon River as well as the Barrington and Gloucester rivers and the associated alluvial groundwater source are managed under the Lower North Coast Unregulated and Alluvial Water Sources Water Sharing Plan (DPI, 2009). As per this WSP there are 212 ML/year under groundwater extraction licences, authorising extraction for irrigation from these water sources, including the following:
20 ML/year in the Avon River Water Source
5 ML/year in the Lower Barrington/Gloucester Rivers Water Source
187 ML/year in the Manning Estuary Tributaries Water Source and
0 ML/year in all other water sources.
The licensed extraction is from the alluvial aquifer, and the purpose of use may not always be solely for irrigation, although licensed irrigation use would likely be a major component of usage in some water sources.
Last updated:
5 January 2018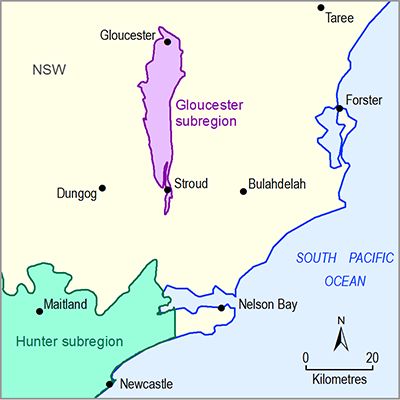 Product Finalisation date
ASSESSMENT