The Gippsland Basin Bioregional Assessment Team would like to thank the asset workshop participants for their contributions to discussion. The following organisations were represented at the asset workshop held in Traralgon on 1 December 2014:
Agribusiness Gippsland
Bass Coast Shire Council
Baw Baw Shire Council
Department of Economic Development, Jobs, Transport and Resources
Department of Environment, Land, Water and Planning
East Gippsland Shire Council
Gippsland Coastal Board
Gippsland Water
Latrobe City Council
South Gippsland Water
Southern Rural Water
Wellington Shire Council
West Gippsland Catchment Management Authority.
This technical product was reviewed by several groups:
Senior Science Leaders: David Post (Projects Director, CSIRO), Trevor Dhu (Science Director, Geoscience Australia), Brent Henderson (Science Director, CSIRO), Becky Schmidt (Products Manager, CSIRO)
Technical Assurance Reference Group: Chaired by Peter Baker (Principal Science Advisor, Department of the Environment), this group comprises officials from the New South Wales, Queensland, South Australian and Victorian governments.
Last updated:
28 September 2018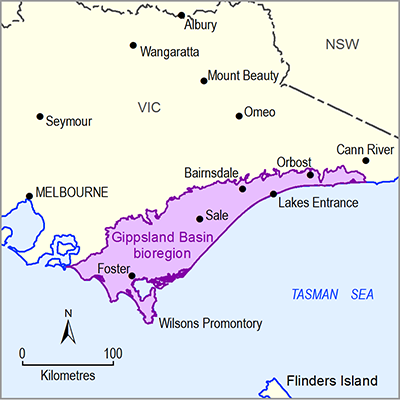 Product Finalisation date
ASSESSMENT