Breadcrumb
1.1 Context statement for the Gwydir subregion

The context statement brings together what was known about the geography, geology, hydrology and ecology of the Gwydir subregion as at August 2014.
Geography
The Gwydir subregion is located in northern New South Wales and spans an area of approximately 28,109 square kilometres. The subregion extends westward from the lower slopes of the New England Tablelands onto the low-lying riverine plains of the Barwon-Darling system.
The population of the subregion is estimated to be about 16,500, concentrated in the town of Moree (7,700) and the smaller urban centres of Warialda and Boggabilla. The subregion is part of the traditional lands of the Gomeroi and Bigambul people.
About 80% of land in the subregion is used for agricultural production, primarily cropping and grazing.  
Geology
The Gwydir subregion has three distinct coal-bearing geological basins: the Bowen, Gunnedah and Surat basins. These basins are sedimentary in origin, forming in the Late Carboniferous and Early Permian from 290 to 305 million years ago. The Surat Basin sits above the Bowen and Gunnedah basins.
Coal is mined extensively from other areas of the Bowen and Surat basins, although there are no coal mines in the Gwydir subregion.
As at August 2014 there is no coal seam gas production within the subregion.
Surface water and groundwater
The subregion lies entirely within the Murray–Darling Basin. The main rivers in the subregion are the Gwydir, Macintyre and Barwon rivers. The Gwydir River flows west into Copeton Dam with a capacity of 1364 gigalitres. It is the major storage in the subregion, providing water for towns, agriculture and environmental flows. Weirs and on-farm water storages along the Gwydir River support an estimated 150 irrigators.
Groundwater systems in the Gwydir subregion are contained mainly in alluvial aquifers. These groundwater systems, particularly those in the Surat Basin in the north-east, are heavily exploited for irrigation and domestic use.
Average annual rainfall is 605 millimetres, based on records from 1900 to 2011.
Ecology
The Gwydir subregion is home to numerous threatened species and ecological communities listed under New South Wales and Commonwealth legislation, including 18 mammal species, 36 bird species and 27 plant species.
The subregion contains approximately 1600 square kilometres of seasonal, semi-permanent and permanent wetlands and lagoons. The majority of these wetland systems are collectively referred to as the Gwydir Wetlands, located west of Moree. Since construction of the Copeton Dam in 1973 there has been a substantial reduction in the extent of the Gwydir Wetlands.
The subregion also contains the nationally recognised Morella Watercourse and the Boobera and Pungbougal lagoons on the Macintyre floodplains.
Last updated:
5 January 2018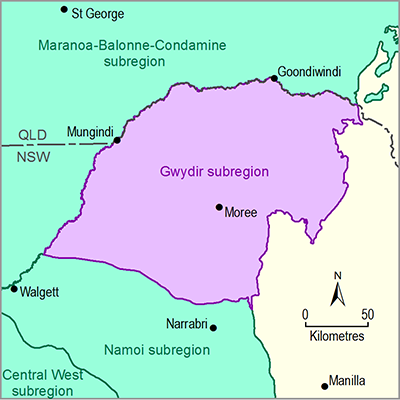 For a different document format, please
contact us
.
PRODUCT FINALISATION DATE