A new generalised geological model of the Hunter subregion was developed from the heterogeneous deep bore data as no comprehensive model was readily available (see companion product 2.1-2.2 for the Hunter subregion (Herron et al., 2018b)). This model focused primarily on delineating the main stratigraphic surfaces of the Carboniferous to Triassic sequences, with the coal seams mainly within Permian strata (Figure 7). Near surface layers that are geologically younger were not of direct interest as they do not contain economic coal resource. The layering and depth profiles generated were a key input to the numerical groundwater modelling (see companion product 2.6.2 for the Hunter subregion (Herron et al., 2018c)). The hydrological modelling explicitly includes overlays of the important surface layers where water fluxes are active. This section is a summary of the geological data presented in companion product 1.1 for the Hunter subregion (McVicar et al., 2015).
The stratigraphic units of the main coalfields of the Sydney Basin are shown in Figure 7. The Hunter subregion contains parts of the Western, Hunter and Newcastle coalfields (Figure 6). The vertical scale in the figure is based on formation age rather than depth below topographic surface, so it shows the correlation of the coal seams and intervening layers across the different coalfields (McVicar et al., 2015, Section 1.1.3).
In the Western Coalfields in the west of the subregion, the Hawkesbury Sandstone and Wianamatta Group form extensive, layered mesa-like plateaux, with the quartzose sandstone and conglomerate layers commonly acting as aquifers, whereas the lower-permeability shale and claystone layers of the Wianamatta Group are commonly aquitards. These stratigraphic units occur at or close to the surface across much of the south and south-west of the subregion and range in thickness from 90 to 700 m, generally thickening from west to east. Locally there are outcrops of the Illawarra Coal Measures, which dip gently to the east in the south-west and toward the north-east in the north-west of the subregion.
The Hunter and Newcastle coalfields, in the centre and eastern parts of the subregion, respectively, have a well-correlated stratigraphy, with mainly terminology differences between them (Figure 7). Various sandstone and conglomerate units, collectively part of the Narrabeen Group, cover the land surface to variable depth. In the northern section of these coalfields the Greta and Wittingham coal measures can be exposed at the surface and lend themselves to both open-cut and underground mining. The Greta Coal Measures thin toward the south and its expression is restricted to the west of the Lochinvar Anticline (Figure 8). The Newcastle and Tomago coal measures thicken from west to east in the Newcastle Coalfields, and coal seams outcrop at the surface along the coastline of the subregion.
Last updated:
18 January 2019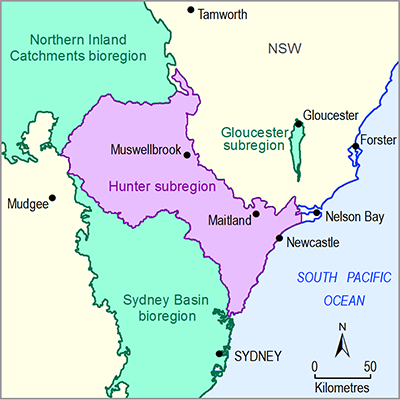 Product Finalisation date
ASSESSMENT